Quick Chocolate Barfi with condensed milk (in MW)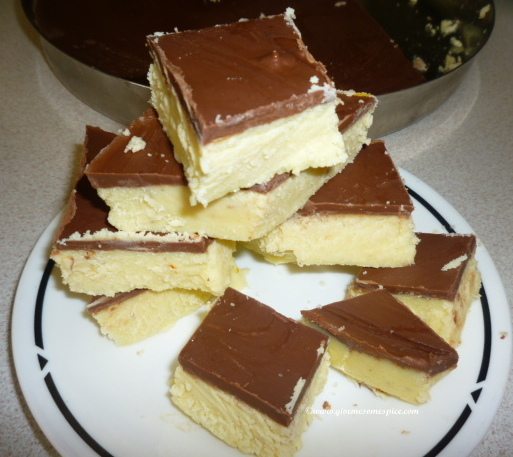 The month of August is the start of lots of Indian festivals which involve cooking a variety of sweet dishes including Indian Churma na ladoos, mohanthal, penda or barfi.   Chocolate Barfi is the favourite of the kids in my family – my son and my nieces and nephews.  This is such an easy recipe very similar to the carmel pendas I made using caramel flavoured condensed milk. These barfis were made at the request of my son.
Ingredients
397 gm tin of condensed milk
400 gms milk powder
200 gms double cream
3 tbls ghee (or melted salt free butter)
large pinch of saffron
½ tsp ground cardamom (Elaichi)
½ tsp ground nutmeg (Jaifur)
For the topping:
2 bars of 150 gms cooking chocolate
Method
1. Take a large microwave dish and mix the milk powder, condensed milk, double cream, ghee, saffron, nutmeg and ground cardamom.    The saffron, nutmeg and cardamom are optional.  I love adding these as it gives a great flavour to the barfis.   Stir this mixture and cook on high (900 watts) for 1 minute.  Keep cooking and stirring the mixture at 1½ minute intervals for 6-7 minutes depending on your microwave.  The mixture should be smooth and creamy.
2.  Grease a tray and transfer this mixture in the tray.  Choose a tray that will give you a barfi thickness of just over half an inch.  Using the back of a greased spoon or small flat bowl, smoothen the mixture and allow to cool – preferably over night.
3. Once cool, melt the cooking chocolate by following the instructions on the packet.  I melted mine in the microwave until it was soft and runny enough to layer the barfi.
4.  Allow this to cool.   Once cool, cut into squares or diamonds using a sharp knife ready to be eaten.  Any left over barfi can be stored in a biscuit tin for a fortnight.
So what kind of barfis do you like?